WATCH: Best CLASSROOM April Fool's Prank EVER!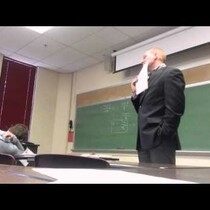 Posted April 7th, 2014 @ 4:16pm
Seen this yet? It's a video going around of a college professor who makes students answer calls on speakerphone if their phone rings during class. Or at least that USED to be his policy.
THEN last week on April Fools' Day, one of his female students had a friend call her during class . . . and pretend to give her the results from a PREGNANCY TEST. Then she revealed it was a prank by telling the teacher she planned to name the kid "April Fools." HAHA!!
(Note: Some of the audio is pretty loud, so you might want to turn down your speakers.)