Amy Schumer On Publicly Revealing Husband's Autism Spectrum Disorder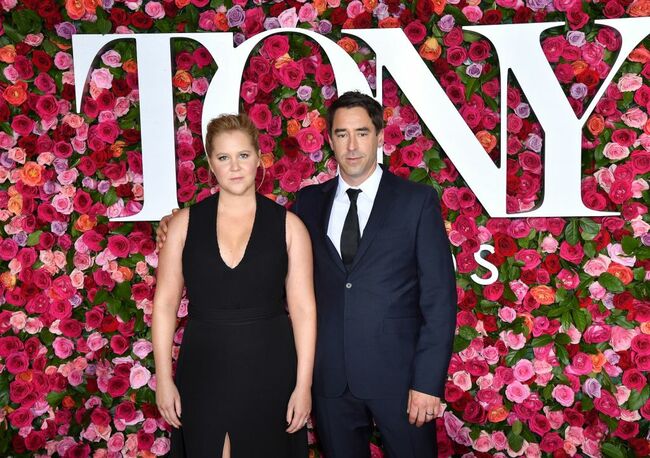 We're so used to seeing Amy Schumer talk about everything in the form of a joke - so when she revealed that her husband Chris Fischer had been diagnosed with Autism Spectrum Disorder in her new Netflix special, "Growing," people definitely took notice.
If you haven't seen the special yet, then, spoiler alert!
In it, Amy reveals his diagnosis:
"I knew from the beginning that my husband's brain was a little different than mine... My husband was diagnosed with what used to be called Asperger's. He has autism spectrum disorder. He's on the spectrum. And there were some signs early on," she says.
So continues to say that some of those early signs were also things that made her fall in love with him.
But last night on Late Night with Seth Meyers, Amy opened up more about the decision she and Chris made together about including his diagnosis in something so public, saying that the diagnosis has actually been an incredible positive thing for not only Chris, but also for their marriage.
"That's why we both wanted to talk about it, because it's been totally positive... I think a lot of people resist getting diagnosed … because of the stigma that comes along with it."
She added that you don't just throw someone out because of this kind of diagnosis and shared her hope for others to get diagnosed themselves:
"The tools that we've been given have made his life so much better and our marriage and our life more manageable. So I just wanted to encourage people to not be afraid of that stigma."
Amy and Chris are currently expecting their first child, and Amy has documented her entire - challenging - pregnancy through Instagram all the way through.
She also took to Instagram ahead of the release of her Netflix special to give a sweet tribute to her husband and his openness to sharing his life. She concluded a lengthy Instagram caption thanking everyone involved in the special with this sweet message:
"But more than anyone and im assuming no one is reading this anymore. But thank you to my husband, Chris who has kept me going during this pregnancy. His willingness and desire to be open with the world about himself and our marriage is courageous and beautiful. He makes me laugh more than anyone and he laughs at me more than anyone. I am more than grateful to have found such an amazing partner and best friend. I'm shocked. I didn't think this love was out there for me. But it was and it is and I can't wait to spend my life with you and our growing family."
Don't mind me just tearing up over here.
Thank you, Amy and Chris, for sharing your truth with the world and inspiring others to get the tools they may need. And good luck with parenthood, it truly is a whirlwind.
Get more from Sisanie here!
Photo: Getty Images
Sisanie
Sisanie is co-host of Ryan Seacrest's show On Air With Ryan on KIIS FM Los Angeles' Hit Music radio station from 5am-10am.
Read more